Trout Unlimited Members Clean Up Richland Creek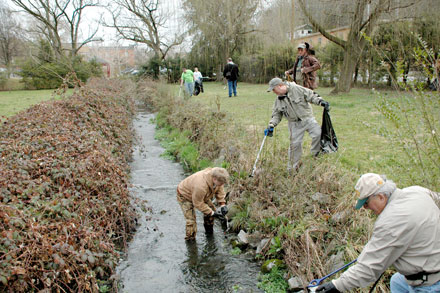 Group Quickly Fills 12 Garbage Bags With Debris Found Along Four Blocks
It took only about an hour for 15 members of Trout Unlimited on Saturday morning to pull out enough debris along a four-block stretch of Richland Creek to fill 12 large black plastic garbage bags.
Disgusting as that sounds, several members said they found noticeably less trash this time than when the club first started cleaning the creek about 10 years ago.
"We volunteered to adopt Richland Creek as part of a program through the Middle Nolichucky Watershed Alliance," said Bob Ross, president of the Cherokee Chapter of Trout Unlimited.
"Although we're a trout-fishing organization, we adopted the stream as an indication of our support for water quality," he said.
Nobody reported seeing trout during the cleanup, but several fish were seen in the clear-running, spring-fed stream, which members said they found encouraging.
Ross said the stream has improved markedly since an apparent leak from somewhere under the former Laughlin Memorial Hospital, now Walters State Community College, was found and plugged several years ago.
Like the creek itself, the cleanup started at the Big Spring behind the Greeneville-Greene County Public Library. Volunteers got in the creek with hip waders or waterproof boots and worked from both ends, meeting in the middle.
Among the more interesting items found Saturday were strips of sheet metal, a photo I.D., and a dark brown glass, beehive-type Orange Crush bottle in good condition. The bottle's 1920 patent was still readable.
Most of the volume, however, was comprised of plastic, paper and foam debris, and a great many disposable cups and food wrappers, Ross said.
ONGOING EFFORT
Although the club only recently adopted the stream formally, and put up its sign up on Saturday, Ross said, "We've been doing this for about 10 years without any sponsorship."
By agreeing to "adopt" the stream, and putting their name on a sign to that effect at the corner of College and McKee Streets, Ross said, the club hopes to "send a message," draw more attention to the creek, and to encourage other groups to adopt other streams, Ross said.
"We hope this will be a lesson to people in Greeneville to learn a little about keeping their streams clean," he said.
"Everything that people throw down eventually winds up in a creek," Ross said. Litter can come in the form of an aluminum can thrown from a pickup truck or a latte cup dropped out the window of a mini-van, Ross said.
Mark Odom, a member of the Watershed Alliance, and Paul Hayden, its executive director, were on hand, along with Jennifer Reynolds, director of Keep Greene Beautiful, a unit of the Greene County Partnership.
Participants were provided with plastic bags, gloves, and pickup tools.
Several members said they want to try to involve younger people in the effort next time. "We plan to continue this twice a year, indefinitely," Ross said.
Source: http://www.greenevillesun.com/Local_News/article/Trout-Unlimited-Members-Clean-Up-Richland-Creek-id-308563