We kick off our second year of the Trout in the Classroom (TIC) program with seven (7) programs in the East Tennessee area, thanks to our donors:
TN Council of Trout Unlimited (especially TU license plate grant),

Appalachian Power,

Carters Ford Chapter DAR,

City of Kingsport Stormwater Utility Program

Citizens Bank,

Kiwanis of Kingsport,

Lowe's and,

Mattern & Craig, Inc;
as well as our Cherokee Chapter of Trout Unlimited volunteers.
The schools currently participating are:
Children Exceeding Expectations (Bristol Motor Speedway)

Kingsport Boys and Girls Club (Kingsport)

Morristown East High School (Hamblen County)

Morristown West High School (Hamblen County)

Robinson Middle School (Kingsport)

Roosevelt Elementary School (Kingsport)

Unicoi High School (Unicoi County)
Although they are not all on the same schedule, each of the above classrooms has completed their aquarium setup.  Most have received their trout eggs and all will have eggs by the end of this month.
Those who started in early September already have fry (newly hatched trout)!  They are on their way to growing into fingerlings for release in December 2013.   After Christmas break, these classrooms will start again in January 2014 for release in May 2014.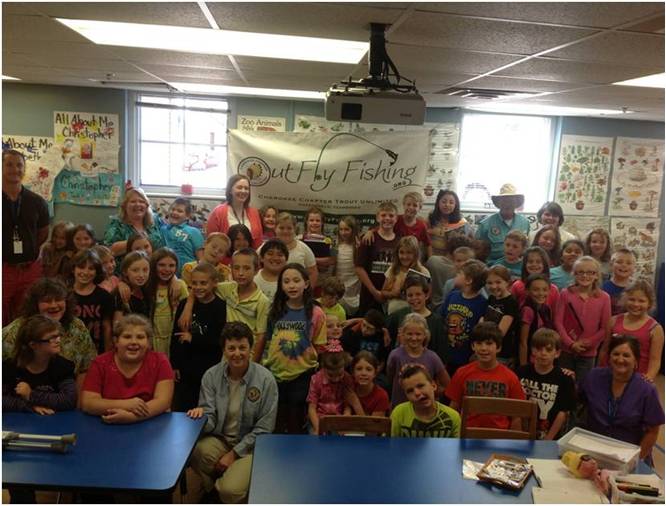 The classrooms who received their eggs a month later are expecting to raise their trout through the Christmas break for release in March 2014. Below are some pictures from the participating classrooms: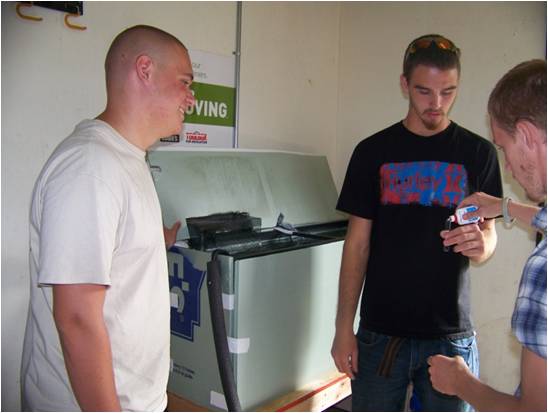 James, Ryan and Cameron testing water pH at Morristown West HS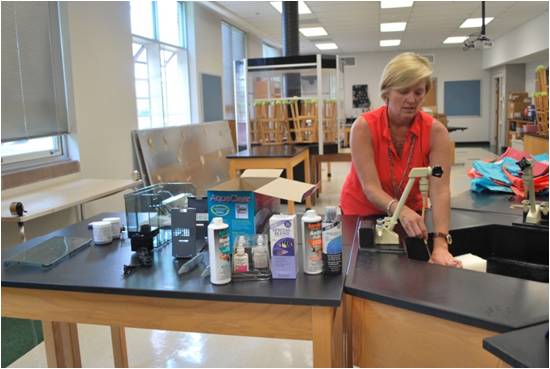 Teacher Leslie Clifton (Robinson Middle School) cleaning filter and setting up TIC system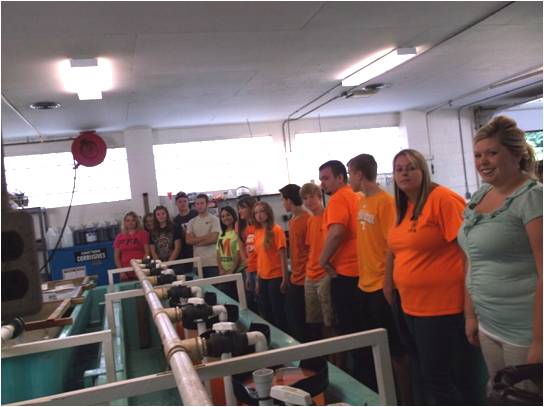 Teacher Donnette McNabb (Morristown East HS) with students during Erwin National Hatchery Tour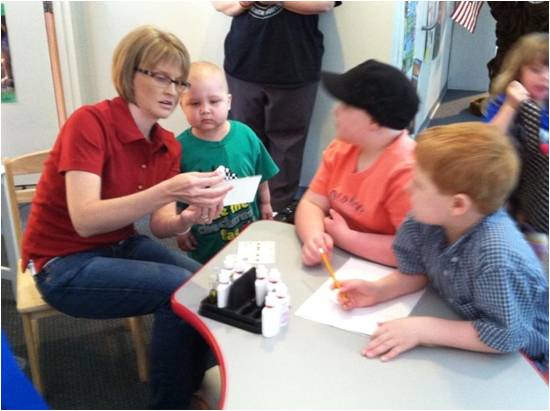 Teacher Hayley Dietrich (Children Exceeding Expectation) showing students how to test water quality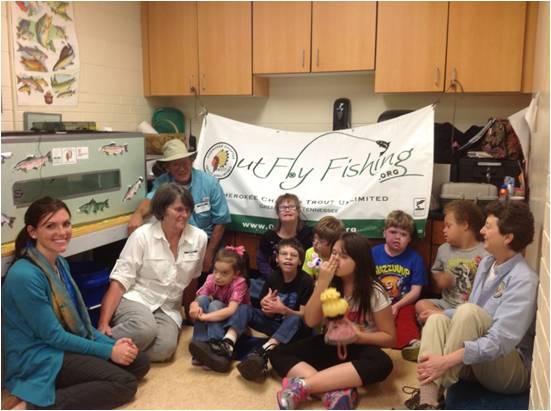 Teacher Morgan Saunders (Roosevelt Elem) with students and Cherokee Chapter volunteers
As part of the volunteer program of Trout in the Classroom, Cherokee Chapter members assist teachers with their aquarium, trouble shoot potential problems and participate as guest speakers in the classroom.  On September 27th, Cherokee Chapter members had the pleasure to present to 4th graders at Roosevelt Elementary School.
The students were divided into groups and rotated between presentations on Watershed, Fish Anatomy Puzzle, Life Cycle of the Trout, and Aquarium setup.  The whole presentation took a couple of hours.  Not really sure who had more fun, the students or the Cherokee Chapter volunteers!  Below are some photos of the event: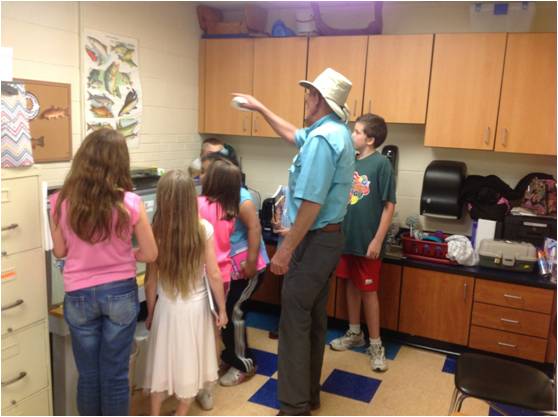 Allen Robbins showing a group of students the aquarium and newly hatched fry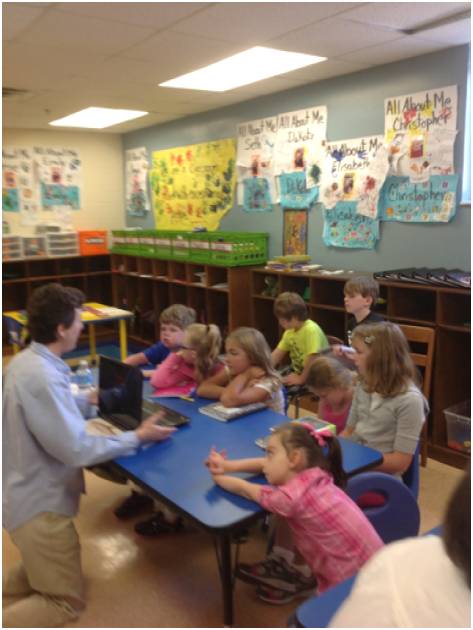 Lori Paris is reviewing the trout life cycle and trout environment with the students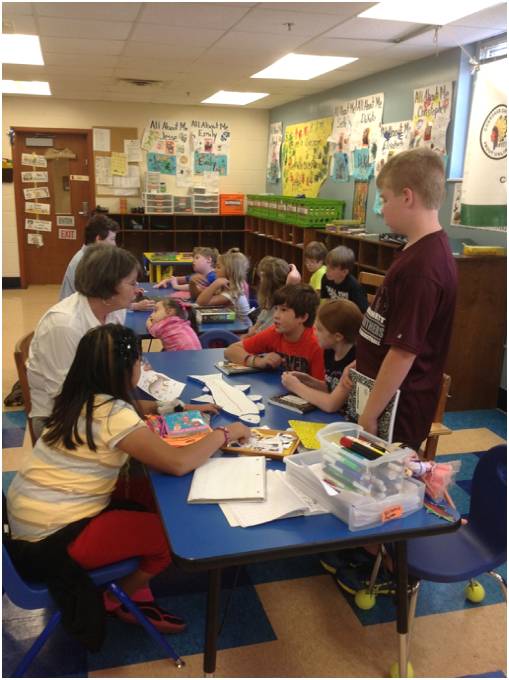 Linda Robbins is helping students with the trout anatomy puzzle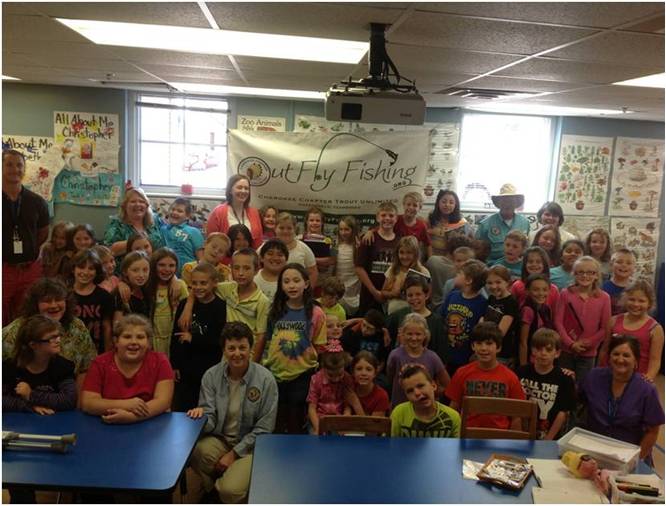 The whole group;  4th grade students, teachers & Cherokee Chapter volunteers at Roosevelt Elementary.
The Cherokee Chapter of Trout Unlimited members meet every 3rd Monday, 6pm at Ryan's Restaurant in Greeneville.  We welcome guests to our meetings to learn about Trout Unlimited and the programs we have to offer.
For inquiries on the TIC program please contact us.