Trout Unlimited – Lines to Leaders
 Welcome to August. The heart of summer, with Dog Days, vacations, picnics and hopefully a chance to fish from time to time. And guess who else is on vacation recess from Aug. 3- Sept. 8? Your Congress. This is a great time to reach out to and fill them in about all of the great things that TU members accomplish year-round in their district. U. S. representatives and senators are always happy to hear from their constituents. They want to know what interests you. This type of on-the-ground information helps them to be more effective in their job. Consider taking a member of Congress on a tour of a chapter project area or inviting them to an event or more personal sit-down meeting. Perhaps the best option of all…offer to take them fishing. Many members of Congress keep busy public meeting schedules through their recess, so even if you can't schedule a private meeting, you may have an opportunity to attend a town-hall to ask your member of Congress questions. Remember, their schedules fill quickly, so get your requests in as soon as you possibly can.
By far, the most effective way to get face time with your member of Congress is by making a request through a relationship you already have in their state or national office. Requests passed along by staff members will carry more weight. If you have no relationship with the office, let someone in the TU Government Affairs Department know, as they might have worked with the office. If they have no existing relationship, contact your nearest district office (information is available on all members' websites). Some offices will require an e-mail meeting request, but it is best to start with a phone call to find out each office's specific requirements. If your chapter or council schedules a meeting or other activity with a member of Congress, you will need to be mindful of the fact that TU cannot endorse or oppose any candidate for public office and must strictly account for the portion of its activities devoted to lobbying (for more information on our tax exemption restrictions, please see the TU Leadership Manual). That being said, you can certainly share your opinions on pending legislation related to TU interests, and request their support for our position. The most important thing to highlight is the important work TU members engage in with the communities they serve.
If you have any questions or need any help inviting a member, don't hesitate to contact:
Steve Moyer – [email protected] 
Keith Curley – [email protected] 
Zach Cockrum – [email protected]
If you do schedule any meetings or site visits, please let us know. In addition to issues you are working on, we may have more issues we would like you to at least mention.
Thanks,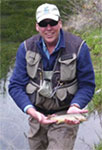 Bryan Moore 
Vice President of Volunteer Operations 
Trout Unlimited