New Summer Snorkeling Program!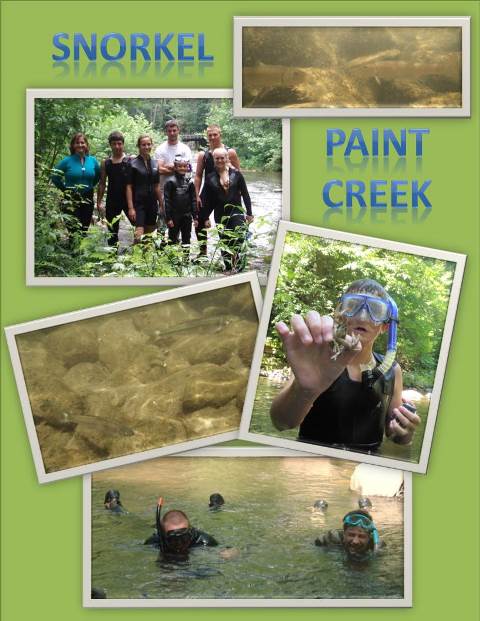 Dear Fish Watcher,
Thank you reserving a trip with the Cherokee National Forest Freshwater Snorkeling Program. We cannot wait to introduce you and your group to the wonders found in our local stream. Be prepared to be amazed by the biodiversity that a healthy watershed can support!
Paint Creek has a diverse assemblage of fish and other aquatic organisms. In the clear waters of the snorkeling site, it is typical to see ten to fifteen species of fish on any given day.  Tennessee shiners swim in schools in the deep pools; sporting fish, such as smallmouth bass and trout are seen in their natural habitats, giving anglers valuable insight for better fishing techniques. Colorful warpaint shiners may be seen spawning and feeding. Crayfish may be seen in the rocks of the stream bed.
Things to Know 
Programs will start upon your group's arrival at the Stephen Falls Picnic site. Please arrive at the site on 10:00 am ready for a fun filled day. You can plan to be out of the water, changed and ready to leave the site by 2:30 pm. Our guides will meet your group at Stephen Falls Picnic area on Paint Creek Road. Detailed directions to the site are provided at the end of this letter. Please call if you have any questions or concerns about finding the snorkeling site.
Privacy tents will be set up for changing. The site has restrooms and a picnic area. Please bring your own drinking water.  A wetsuit, mask and snorkel will be provided to each participant along with instructions about their proper use. Your session will include information on aquatic ecology, fish identification, forest service careers, and the role public land managers play in protecting watersheds, streams, and the animals they support.
Participants must stay within the designated swimming area so we can ensure that you are safe at all times. Guides and safety guards will be monitoring snorkelers at all times.  Snorkelers will not be in deep water.  Underwater viewing scopes will be available for those not wishing to snorkel. In the event of rain, high water, or cold air/water temperatures, you have the option to reschedule. Please understand that we are prepared to continue to conduct programs during light rain, air temperatures in the 70s, and water temperatures in the 60s. 
Once again, we are so excited you chose to join us for a freshwater snorkeling program. Please do not hesitate to contact us with any questions or concerns you have. You can reach our knowledgeable staff at 423-638-4109. 
Sincerely,
Marcia Carter
Snorkeling Program Manager
4900 Asheville Highway
Greeneville, TN 37743
(423) 783-2407
---
 Your snorkeling trip at a glance:
Trip date: Tuesday, June 16, 2015 
*Please provide us with a list of wetsuit sizes needed at least one week before your trip.
Arrival time: 10:00 am 
What to bring (wetsuits, masks, and snorkels will be provided):
•swim suit
•waterproof sunscreen
•wading shoes or strap-on sandals – need hard soles
•towel
•lunch
•plastic bag for wet clothes
•drinking water 
•waterproof camera (optional, but you'll probably wish you had one!)
Remember – There is no cell phone coverage in the Paint Creek Corridor, so make all of your necessary contacts before you pass through Greeneville.   
Directions to Stephen Falls Picnic Area/Paint Creek Snorkeling Site: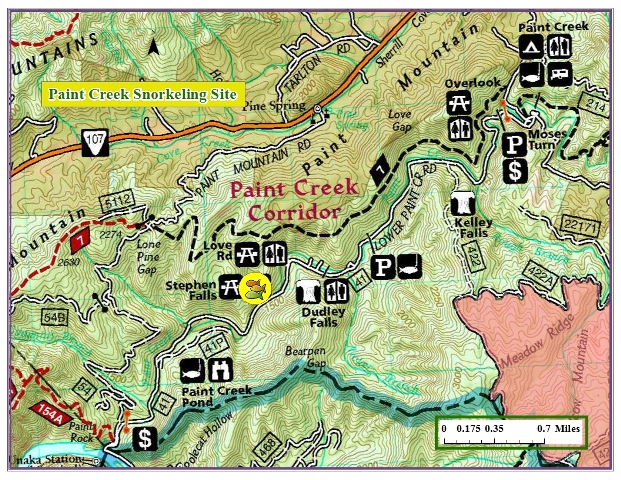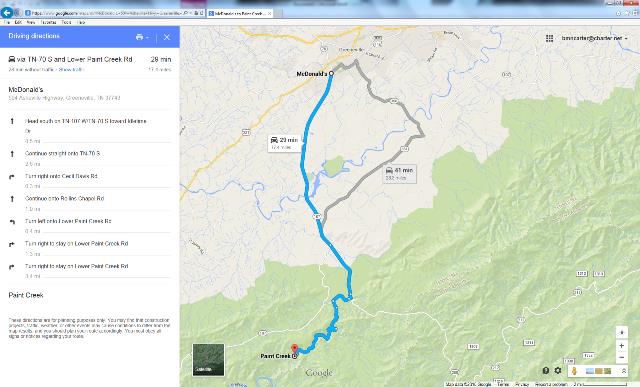 REQUIRED FORMS ON NEXT PAGES